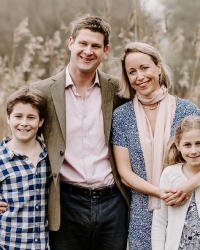 Jonnie Besley
Abberley Hall is a long-established and thriving country prep school offering an outstanding, broad education to boys and girls from the age of two to thirteen. We enjoy an inspiring rural setting with extensive grounds and beautiful buildings of special historic importance. We welcome full, weekly and part-time boarders as well as day children who are able to benefit from flexible wrap-around care in the mornings and evenings, and daily minibus transport.
Ultimately, we provide each and every child with the best possible start in life. Abberley pupils enjoy a magical childhood and grow towards becoming likeable, confident and rounded individuals with a zest for life. We believe that childhood is precious and that children shouldn't grow up too soon. We promote a sense of awe and wonder in our pupils and we try to remember the advice of Roald Dahl,
'watch with glittering eyes the whole world around you because the greatest secrets are always hidden in the most unlikely places. Those who don't believe in magic will never find it.'
Above all else, we are a community with kindness, integrity and Christian values at the heart of all that we do. Excellent pastoral care is the foundation upon which everything else is built and the safety, wellbeing and happiness of pupils is our top priority. We work closely with parents to achieve this and the relationship between home and school is nurtured. We focus as much on the emotional as on the physical health of our pupils and we have a culture of openness where children are known as individuals and encouraged to talk about their feelings. Character education is as important as preparation for exams and we aim to develop in each child a strong moral compass and values such as kindness, courage, collaboration, forgiveness and respect. Pupils, staff and parents belong to the Abberley Hall family. We look after one another, we learn together and we remember that laughter is good for the soul!
We have an outstanding reputation for academic excellence and an enviable record of children gaining scholarships to a wide range of senior schools as well as a 100% success rate at Common Entrance in recent years. We cater for all abilities and learning styles and our bespoke approach to the education of each child enables us to stretch the most able whilst providing additional support to those who need it. We have small classes, excellent teachers and provide a broad and stimulating curriculum. We believe that success in the classroom isn't just about preparing children for exams but that we must also enable them develop creativity, independence, leadership and the ability to collaborate so that they are equipped to live happy and successful lives.