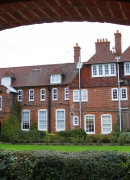 Mr L Hunter, MA (Cantab)
Students are encouraged to explore and develop all aspects of their characters so as to become confident, independent young people; young people who are prepared for the next stage in their life by the time they leave Manwood's. They are encouraged to take part in the many extracurricular activities on offer and supported to so that they achieve as highly, in an academic sense, as they are able. The aims and ethos of the school are reflected in the wide range of subjects and extracurricular opportunities offered. The vast majority of students in Year 11 stay on into the sixth form, and they progress to top universities in both the UK (including Russell Group and Oxbridge) and around the world.
There are boarding facilities for both boys and girls at Manwood's and their presence helps to create the particular family ethos and palpable sense of community that exists here. More detail can be found in the Boarding section of the website.
The Friends of Manwood, to which all parents automatically belong, contributes to the life of the school in very many ways, both through its lively schedule of social events and the financial contribution it makes through its fundraising activities. It is another example of the commitment of all members of the school community to the life and wellbeing of the school.
Alumni are encouraged to join The Old Manwoodian Association and that goes from strength to strength. As well as attending the events that the OMA holds during the year, many ex Manwoodians come back to the school to help out with a range of events and activities; from careers advice and mock interviews with sixth formers, to helping out with the Combined Cadet Force.
We strive to provide a safe and supportive environment for the young people who come through our doors and work tirelessly with them so that they develop into confident, happy and successful young people who are prepared for the global nature of the world around them in the 21st century.