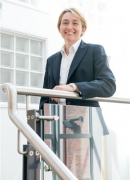 Mr Bart Wielenga, BCom, BEd
Blundell's is a warm, friendly and yet ambitious School. At its heart is our commitment to support the individual. We celebrate difference and we aim to ensure there are new experiences and challenges in each and every school week. Our pastoral care is outstanding and, as a result, we feel secure in being very academically ambitious for our pupils. We see ourselves as continually striving to reach new academic heights within a very busy school life that is also packed with extra-curricular opportunity. Our pupils know where they stand and that we are all here to help them achieve their best. That is proven in the impressive rise in examination results that we have seen in recent years.
As a School, we are self-critical and always open to questions. Our pupils are known well by all those who teach and guide them through what are often felt to be the perils of adolescence. We aim to work with parents and guardians to build a strong relationship between us as we jointly share the responsibility of inspiring and supporting the young people in our care. It is an all-important partnership that gives the essential consistency that young people need to excel in all that they do.
Blundellians learn to be flexible, articulate, able to present themselves and their ideas well and, above all, capable of motivating themselves and others to identify their own goals and achieve them. The School is true to its historic principles of academic ambition and service to the community and we foster these qualities, providing 'roots' for security and 'wings' to succeed in the challenging but dynamic world beyond school.
Nicola Huggett
Head