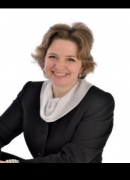 Mrs R Parkyn MA (Oxon) MA PGCE MCIL
"I have been delighted with the school, staff are approachable, it's creative and caters for each individual child. It really does take the gifts children have and then develop them." (Parent)
"We are like a family", "It makes me feel like an individual", "It's unique with small classes and the teachers know you." (Pupils)
"Mayville High School is one of the most unique schools in Hampshire it is an inspirational place where a remarkably warm, inclusive and caring ethos guides all students to achieve their very best."(Headteacher and former pupil Rebecca Parkyn)
At Mayville we offer the perfect balance, academic excellence in an incredibly friendly school where pupils are also happy. It is a formula that means parents are safe in the knowledge that their child can succeed academically, in an environment where pastoral care is second to none. This year our GSCE results were excellent. An impressive 97% of all students received 5 A* - C grades including Maths and English.
Head teacher Rebecca Parkyn says, "This year's results were outstanding by any standards. Results like these confirm Mayville provides an education level with the very best within a nurturing environment where pastoral care, sport and creative arts are given a high priority."
At Mayville we believe we offer a perfect combination, academic success and a broad based education, for every child throughout the entire school. Founded in 1897 our size is our strength, big enough to offer pupils a wide range of opportunities, we are small enough to truly treat each pupil as an individual. At Mayville we can offer your child a place from the age of 2yrs to 16 years. Divided into the Nursery, Prep-Prep, Junior and Senior Schools we have a renowned Dyslexia Unit and offer a strong Gifted and Talented Programme. Although based in a city we offer we are the only independent school to offer 20 acres of playing fields in the heart of Southsea at Cockleshell in Eastney with easy access thanks to our fleet of minibuses.
Co-education Separately
At Mayville boys are girls are taught separately in the core subjects, because we believe this best meets their specific learning needs. Jenny Lewis Deputy Head of the Junior School says, "Boys and girls learn in such different ways, we can tailor teaching and lessons to cater for this."
Early Years
Mayville Nursery is the first department of Mayville High School and for our two year old's, "The Swans", their journey starts in "The Cottage", where children can experience "A home from home environment," with a garden full of outdoor play equipment. It is an ideal place for children to start their learning journey where they are cared for and cherished, and can have fun.
Our three year olds, "Kestrels" have a space bathed in light to discover, play, learn, and feel safe. There is a bright airy messy room, quiet area complete with its own interactive white board and purpose built play area. Head of Early Years Alison Prismall says, "There is a genuine care here with staff wanting the children to develop and become the best they can be."
Pre-Prep
Nestled in the heart of the Junior school in a purpose built building is the home to our Pre-Prep Department. Being part of a larger school environment means pupils can benefit from using the school facilities, and gain access to specialist teachers, P.E, trampolining, singing, dancing, ICT and French.
Junior School
In our Junior school the positivity is bursting out of every classroom, where boys and girls from 7 learn in bright airing surroundings in a caring yet disciplined environment with small class sizes. We offer a broad based curriculum with a strong creative arts programme and many sporting opportunities.
With our fleet of minibuses there is an abundance of opportunity for pupils to go on school trips, such as Calshot Activity Centre, Kingswood, and a Bush Craft Course in the Cotswolds. Pupils also get to go on an annual ski trip in Europe.
Seniors
In the Senior School pupils thrive academically in a high achieving school where the pastoral care is second to none. Classes are small which means every child is truly treated as an individual, and teachers can push each child to reach their full potential. The Creative Arts Programme is strong with an emphasis every year on Rock Challenge. Sporting success is good and pupils are fully supported with individual strengths. Academic achievement is excellent. Headteacher Rebecca Parkyn says, " We are all committed to providing an education level with the very best but within the most special environment often referred to as " the Mayville way." All teaching staff work alongside each pupil developing shared moral views, a sense of responsibility, personal resolve, empathetic kindness and self-confidence. By ensuring a secure and compassionate environment, one full of stimulation, variety and challenge, we enable our pupils to thrive among friends, pursuing the numerous academic and co-curricular opportunities available. Mayville helps our pupils fulfil their ambitions and develop the personal qualities that will serve them well throughout their lives."
At Mayville our Nursery is open 50 weeks of the year from 8am-6pm, before and after school are is available and holiday clubs are provided.
Your are warmly invited to come and see what we do. To take a tour please call 023 92 837756 or enquiries@mayvillehighschool.net