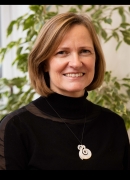 Mrs. Alison Cobbin, BA, Dip Ed, MBA
Head of School: Mrs. Alison Cobbin, BA, Dip Ed, MBA. School type: Coeducational International Day with homestay available for students age 16-19 Member of: ISA, ECIS, IAPS, LISA, IB, ISCis Ages range of pupils: 2-19 No. of pupils enrolled as of 2.2.14: 352 Kindergarten (ages 2-4): 7 boys 11 girls, Lower School (ages 4-6): 23 boys 15 girls, Lower School (ages 6-11): 54 boys 37 girls, Upper School (ages 11-16): 79 boys 67 girls Upper School (ages 16-19):35 boys 24 girls Fees per annum:£4,020 - £19,290. Religious denomination: non-denominational
Curriculum
Dwight School London aims to provide a secure, well-ordered and happy environment with the learning process at its core, offering the finest possible education for all students in order for them to reach their full potential. Serving a cosmopolitan and diverse North London community, great importance is attached to respect, understanding and empathy with everyone's cultures, religions and backgrounds.
Students follow the International Baccalaureate (IB) curriculum, starting at aged three with the Primary Years Programme, moving onto the Middle Years Programme at age 11 and the IB Diploma Programme at age 16. The programmes are designed to encourage the development of learning skills and to meet a child's academic social, physical, emotional and cultural needs. Through enquiry based learning and various disciplines, subject interrelatedness is accentuated, preparing students for the pre-university Diploma Programme.
The school recognises that students can have a variety of different learning styles. The Quest Programme is designed for students who need help developing strategies to assist them to study effectively. Through one to one tuition from specialist staff, students can reach their full potential, further enhanced by the school's teacher-student ratio.
Entry requirements
Students are accepted for entry at any time throughout the school year.
Kindergarten and Lower School (ages two to 11).
Students are invited to attend for half a day taster session.
Upper School (ages 11-16).
Students attend an interview with the Head of school, are invited to visit the school for a day and may be required to complete a basic assessment.
Entry to the upper school is automatic for students in the lower school.
Upper School (ages 16-19).
Diploma Programme applicants are invited for interview with the programme coordinator. Students would be expected to have five or six GCSE passes, with B, A or A* grades for subjects to be studied at Higher Level.
Examinations offered
PYP Project Exhibition, IBMYP Personal Project and e-assessments, and IB Diploma
Facilities
The school has dedicated IT, music, art and design technology facilities for all students. The commitment to use of ICT in all subject areas is highlighted by IT and graphics suites, individual student home drives and email accounts, student dedicated laptops and wireless network.
Students' physical development is considered as important as academic development and the school's sports fields provide excellent facilities for football, cricket, athletics, hockey, tennis and softball. The school's hall, playgrounds and local amenities are also utilised to offer further activities such as basketball, badminton, squash, swimming, table tennis, ice-skating and skiing. Matches and tournaments between local schools are regular fixtures.
The school is able to provide a bus service for students living in the local area in addition to the excellent bus, tube and train routes from the rest of London and the surrounding area.