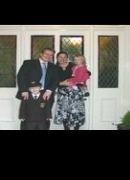 Mr Matthew Adshead
The Old Vicarage School is a unique place. Your child cannot help but be enthused and fulfilled by the excellent education on offer and wide range of activities available. On visiting the school, many are impressed by the beauty of the building and its gardens. You then become aware of the excellent academic, physical and social achievements of the children. Also, for many years the school can boast a 100% record of its pupils gaining entry (many with scholarships) into their first choice independent senior schools in the area.
A very comforting feature for parents is the warm and welcoming family atmosphere at the school. There is something special about our small school. The secret is not only in the care and attention of our wonderful staff but also in the way the older children care for and nurture the younger ones as soon as they arrive in the Kindergarten.
At the Old Vicarage School we provide a purposeful learning environment, encouraging each child to strive for excellence in all aspects of their life, supported by a caring and family atmosphere. As a parent myself, I expect a school my children's school to provide an excellent education and a high level of pastoral care.
At the Old Vicarage school our motivation is to empower young people to strive for academic, sporting, social and personal excellence. The teachers lead by example, showing each child the importance of living morally and treating others as they would wish to be treated. We have a unique opportunity here to develop the whole child without sacrificing the academic excellence which parents quite properly desire when choosing an independent education. Pupil numbers are carefully maintained so these essential qualities are safeguarded. We aim to have 15 pupils but never more than 18 pupils in each class.
A website can only show so much, so please visit the school to experience its warmth and engaging atmosphere in person. This is a school to fall in love with – we certainly have! Please come and see us soon.
M J Adshead, BA (Hons) PGCE