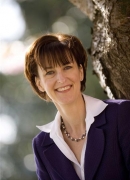 Mr Peter Clague
The school is set in a uniquely rural setting in the middle of a town and caters for both boarding and day boys and girls. Close links with the Senior School, which is on an adjacent campus, provides a considerable strength in curriculum planning allowing the school to provide the essential academic and social continuity from 11-16.
The essential pastoral care comes for day pupils from the Form Tutor and for boarders from the dedicated Houseparents who are always on hand for support at every level. Self confidence is increased by participation and a sense of belonging, and the learning of self discipline is a priority throughout the school. Good manners, self respect and consideration for others are continually reinforced, with the school's Christian tradition forming the basis for these personal values.
The central purpose of the Prep School is to provide an appropriate, stimulating and motivating education for all of the pupils suited to their age, needs, aptitude and ability. The school recognises that the pupils are unique individuals; they learn in different ways and at different speeds. This learning process is achieved through understanding and through the air of co-operation that exists with the teaching staff and by their total professional commitment.
With an average class size of under 20 every pupil benefits from a degree of individual attention. With the broad curriculum and varied and considerable range of activities, every boy and girl can develop a wide view of life.