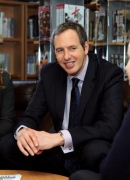 Mr Bradley Salisbury
Dean Close successfully combines traditional values and high academic standards with its modern approach and state-of-the-art facilities. Situated on the outskirts of Cheltenham, it is one of the oldest established co-education independent senior schools.
With around 500 pupils, it is a place where all faces are familiar. Based on its strong Christian values and helped by impressive facilities, the atmosphere not only nurtures academic, sporting, artistic and musical talents, but also friendship, integrity and mutual respect. All classrooms, laboratories, library facilities and seminar rooms are fitted to the very highest standards with state-of-the-art technology. Coupled with an excellent teaching staff, this is what accounts for 98 percent of pupils who obtain university places each year.
The curriculum expects everyone to achieve GCSE, AS and A2levels and move onto higher education. A large sixth form ensures a wide choice of A'level subjects and every year a number of pupils gain places at Oxford and Cambridge.
Both music and art are based in modern, purpose-built accommodation and a superlative 550 seat theatre produces 'professional' quality performances. These facilities are partly used in the curriculum but also constitute a basis for a huge number of non-sporting clubs and societies. Very fine facilities and coaching lead to excellence in a wide range of sports including hockey for which there is a recently built £3m sports hall, double astro-turf pitch, rugby, tennis, athletics and swimming in a 25m indoor pool. A fully-equipped gymnasium and squash courts support further regular sporting activities alongside more unusual facilities such as an indoor rifle range and climbing wall.
The School has generous scholarship schemes and a leaflet may be obtained from the Registrar. It is possible to apply for these awards - which may be academic, musical, artistic, or sporting - at 11, 13 or 16. There is also an all-rounder award at 13 or 16 and a drama award at 13.
The School is easily within walking distance of Cheltenham town centre. Set in the heart of the Cotswolds, Cheltenham is an acknowledged architectural, cultural and educational centre that is accessible by air (Birmingham/Bristol/Cardiff), rail, coach and motorway.