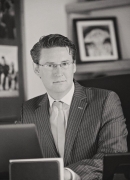 Nicholas Pietrek
Thorpe House School is a warm and vibrant school with over 90 years of experience as an excellent educational provider for boys. We are a truly unique independent day school; small enough to value and know each individual and large enough to provide him with a rich and varied range of learning opportunities, inside and outside of the curriculum.
We are the only all-through boys' school in Buckinghamshire taking boys from Nursery at age three through to their GCSE's at age 16. As a successful, approachable independent school specialising in boys' education, we understand the ways in which boys learn and we genuinely treat each boy as an individual. We understand that boys will be boys and are often lively, opinionated, physical and competitive; we harness these qualities and produce well-educated, well-mannered and well-rounded, young men. Every boy at Thorpe House is unique, some are academics, some excel in sport and others in the performing arts; each boy is different and it is that difference that we nurture and value.
At Thorpe House, you buy into much more than a school; we have created a home from home that provides a caring environment in which each boy is treated in such a way that he feels secure and an important member of the whole school body, thus allowing his learning to flourish. Our boys are at the heart of our school and are taught traditional British values such as dignity and integrity, tolerance and compassion, self-respect and respect for others and to be resilient and confident, always giving of his best.