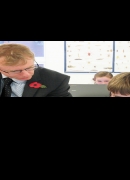 Mr Neil Chippington
St John's prides itself on the quality of the academic and pastoral care it provides for each child. Through relaxed and friendly relations with children in a fully co-educational environment rich with opportunity; through close monitoring of progress; through communication and co-operation with parents; through expert and specialist staffing and through a community that cares for the strengths and weaknesses of each of its members, St John's has consistently achieved outstanding results exemplified by the 60 scholarships to Senior Schools awarded to our pupils over the last three years.
The School occupies two nearby sites, Byron House and Senior House, across Grange Road from the extensive playing fields owned by and shared with St John's College. At Byron House, the Junior Department houses the children in the 4-8 age range (40 per year in two co-educational classes in the PrePrep which become three classes in Year 3). Byron House provides outstanding facilities for 4-9 year olds, including specialist Music, DT, ICT, Drama, Library and PE facilities.
The three classes move to Senior House for Year 5 until Year 8. Senior House site provides specialist facilities such as the swimming pool, the theatre, the Music school, the Art room and a wide range of IT spaces. Major buildings development has seen the creation of a new boarding house which accommodates up to 40 boys and girls and the creation of spacious new classrooms, Science facilities, a DT room, a computer control, programming and graphics facility, a Drama studio, Music facilities, a wonderful new Library, a state of the art astroturf and a multi-sports court.
Outstanding Music, Art and Drama, excellent sporting achievements and an extensive programme of after-school activities foster the children's talents. A unique Individual Needs Department caters for pupils' difficulties or gifts. The school fosters independent learning and creative thinking (for example, teaching Philosophy from Year 4 upwards). It shows the children and engenders in them a real generosity of spirit, teaching them to get the best from themselves and for others. Such children do exceptionally well in their life at school and beyond.