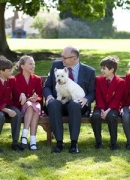 Mr David Sibson
At St Francis, we pride ourselves on our happy and welcoming community. Our aim is to ensure that all children are given the best possible start to their education. We encourage every child to do their best in the classroom and to achieve in all other aspects of school life as well. The range of opportunities in academics, sport, music, art and design, drama technology and in extra curricular clubs allows our pupils to identify and develop their talents and builds self-confidence across their whole educational experience.
St Francis School provides an education in the context of Christian values, which develops and stimulates the 'whole child' and which enables pupils to grow in confidence and capability so that they are well equipped to manage the challenges and opportunities of the wider community.
HISTORY : Founded in 1941 by Miss Phyllis Burden with just four pupils in the Rectory in Pewsey, in 2017 St Francis celebrated its 75th Anniversary with over 240 pupils on roll and in the same year, the new purpose built Little Saints Nursery was opened offering care for 0 - 4 year olds from 7.45am until 6.oopm for 50 weeks a year. Little Saints Nursery now (2019) cares for over 80 children and has waiting lists for places for many months in advance.
SCHOOL SITE: Set in 17 acres of the picturesque Pewsey Vale bordered to the north by the Kennet and Avon Canal, six miles from Marlborough.
BUILDINGS: In 1984 the school moved out of Pewsey High Street to Haybrook House (which now contains the Pre-Prep departments), and acquired the neighbouring Travancore House (Prep Department) in 1990. A new purpose built classroom block with Form Rooms for Years 3 - 6 was opened in 2004, fittingly named the Burden Building. During the summer break in 2011, a 20 station ICT suite was added and two additional classrooms in the roof space. The Burden Building also contains a Library, a Design and Food Technology complex (including ceramics kiln) as well as numerous specialist teaching rooms. Learning Support rooms can be found in Haybrook House, Travancore House and the Burden Building.
The site also includes: a separate dining-room and kitchens; the Hemery Hall Sports Hall and Theatre (used for school play productions and assemblies as well as sport, and in the evenings by the local community for activities such as badminton, tennis and scouts) which includes two indoor cricket nets; playing fields providing pitches for soccer, rugby, hockey, cricket, rounders and athletics and ample space for cross country; and a double tennis/netball court.
A separate building, the Cannon Centre, houses the Science Laboratory, a Drama loft studio and a DT Studio.
The school currently has 280 children, from aged 0 in Little Saints Nursery up to age 13 in Year 8. It is a charitable Trust with a Board of Governors. The school is a member of ISC and the Headmaster of IAPS.
Children are prepared for CE at 11 and 13 and for scholarships or entrance exams for the Schools of their choice.
Visits to St Francis are welcome, please contact Admissions for an appointment.