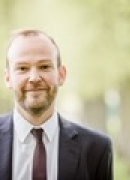 Mr Luke Bromwich
Welcome to St Margaret's Preparatory School and this very special community which sits within the heart of Wiltshire. We are proud to offer an exceptional education for boys and girls between the ages of 3 and 11. Our leafy and expansive campus with its incomparable facilities, shared with St Mary's Calne, has a unique energy and provides a stimulating environment for our pupils to immerse themselves within.
Throughout our history, St Margaret's has become known for not only academic excellence, but also a nurturing, intimate school where pupils thoroughly enjoy their learning, achieve to their highest potential and feel safe and secure. We offer a broad curriculum which embraces creativity, the arts and sport and prepares our pupils to succeed at 11+.
While we pride ourselves on the academic success of our pupils, our philosophy is underpinned by the belief that children thrive when they are happy, stimulated and equipped with the skills they need to succeed. Our curriculum continues to evolve to meet the needs of our ever-changing world so to provide pupils with the life skills and attributes they must acquire to flourish both in the classroom and beyond.
The right environment
Your child will learn in a safe, nurturing environment and spend each day in modern, stimulating and purpose-built teaching spaces. 30 acres of campus and offsite facilities mean there's space to explore, learn, play, let off steam, relax, think and grow.
Facilities and opportunities to develop potential
Wherever your child's strengths and interests lie, we have the facilities to support them. Learning spaces are contemporary, vibrant and well-equipped; these have been purpose-built in the last 10 years. These include dedicated specialist teaching rooms; a 25m indoor swimming pool; sports pitches; all-weather Astroturf; Chapel; dining hall; theatre and an outstanding Library and Computer Suite where interactive learning takes place. Additionally, outdoor space is plentiful and children enjoy time spent in the school garden; wildlife area, courtyard classroom or one of the many play areas.
A tailored learning programme
Teaching throughout the school is tailored to meet the needs of the individual child. Children are encouraged to reflect and evaluate their own learning and with support identify their next steps. Specialist teachers offer a wide range of experiences and as a result, our teaching delivers truly personalised learning for each child. An extensive range of mobile technology enhances learning across the curriculum.
Zest and vitality
Your child will join a school with real spirit and energy, which lives each day to the full. We purposefully pack excitement and learning experiences into every moment. Our staff are passionate about teaching and lessons are fun, vibrant and engaging. The children's love of learning is infectious and we hope it'll rub off on you too!
Foundations for life
Of course you want your children to be happy, alongside giving them the best possible start in life. St Margaret's is a place where friendships and special memories are created and where a love of learning is established. Your children will understand that success requires hard work, personal responsibility, respect and consideration for others. These qualities will remain with them, equipping him or her for future challenges and providing an edge in years to come.
It is a privilege to lead such a vibrant and happy school and I am excited for its future. I wholeheartedly welcome you to visit us in person for a taste of life at St Margaret's!
St Margaret's is an independent day preparatory school for boys and girls aged 3-11 based in Calne, Wiltshire.