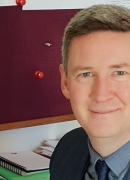 Mr Terence Ayres BA Hons PGCE
At Leehurst Swan, our pupils are at the heart of everything we do. We recognise the uniqueness of each child and it is our privilege to guide them on the road to discovering their talents and achieving their true potential. We offer a family-friendly, nurturing environment based on Christian values, and a broad and varied education which both stimulates and challenges. We seek to encourage a true enthusiasm for learning, and to help pupils grow in knowledge, wisdom and understanding, whilst preparing them for their future beyond school.
We have been educating children on this site for over 100 years and our academic record is very strong. However, we also firmly believe learning should be imaginative and fun, and we place learning and laughter at the heart of all that we do. We are a small school, which allows us to provide individual attention, exciting opportunities and creative activities for all our children while preparing our pupils for their future beyond school.
Leehurst Swan was awarded top marks by the Inspectors who remarked that "The quality of the pupils' academic and other achievements is excellent". The children's personal development, behaviour and welfare is outstanding" Independent School Inspectorate 2017.
Leehurst Swan was found compliant in all components of the recent Regulatory Compliance Inspection that was conducted by the ISI at the beginning of March 2020.