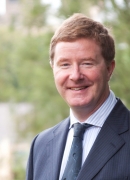 Mr Kiearan McLaughlin
Our unofficial motto at Durham School is 'Confidence for Life', and we believe this confidence allows our pupils to succeed in all areas of school life. The confidence that Durham School instils in it's pupils is one that comes from understanding themselves: knowing their strengths and weaknesses so they are able to build on the former and work for on the latter.
Confidence comes from having a clear sense of right and wrong; the confidence to be one's own person means the ability to make the right choice rather than the expedient one. Confidence comes from experience; that having tried, failed and learned from the setback.
Confidence comes from preparation; the knowledge that pupils have put in the effort before an exam, a fixture or a concert so that they are ready for the challenge when it arrives. Confidence comes from an understanding of others; an awareness of people as individuals, with diversity to be celebrated.
Don't just take our word for it - come and see for yourselves. Every day is an Open Day at Durham School so please get in touch and we will organise a visit.
--------------------------------------------------------------------------------
Bow, Durham School is the Preparatory School for Durham School but has enjoyed its own site overlooked by the world famous Cathedral since 1888. The spacious grounds give scope for pupils to play energetically and safely. In addition, pupils at Bow are able to access many of the excellent facilities at the Senior School, such as the swimming pool, theatre, squash courts and sports hall.
A high pupil-teacher ratio is maintained and small classes are considered vital. In the Pre-prep Department, the curriculum is broad and varied, with emphasis being placed upon language, number and science. Here and throughout the school, all aspects of the National Curriculum are covered and much more besides. As pupils progress through the school, they are taught by specialist subject teachers. Pupils begin French in year 3 and Latin in year 5.
Music, art and drama form an integral part of life at Bow and we have an active choir and ceilidh band who perform regularly both to parents and in the local community.
The School has an outstanding tradition in competitive sport and the main sports are rugby, cricket, hockey, netball, rounders, football, swimming and athletics. However, winning is not everything, and the pupils learn to enjoy their sport with most representing the school at some time in their career. Opportunities also exist for cross-country, squash, badminton, gymnastics, fencing, karate and judo, either in games time or as extra-curricular activities.