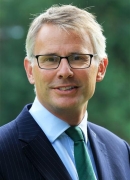 Mr M M Turnbull, BA, MA
It is the responsibility of schools to prepare all children to lead happy and fulfilling lives. Understanding that some of the most important parts of our education take place beyond the classroom not only starts to recognise what a good education should include but it also clearly shows how independent education is so well equipped to achieve this.
Our approach to education combines excellent academic achievement, ambition and strong self-belief, creating well - rounded individuals with a lifelong desire to learn. Learning does not stop at the classroom door, our extended day and boarding ethos enables participation across a wide range of activities.
All of this happens across 200 acres of stunning countryside where you'll find 500 years of heritage, exceptional modern facilities and a welcoming community.
The School has seven boarding houses, each with Senior House Staff, Matrons, and a full team of Tutors. At Giggleswick, all pupils whether full boarders, flexi-boarders or day pupils, are fully integrated into the House system and offered the same opportunities. Every pupil is provided with their own work space within their House so even those who return home at the end of the day have space to fit their studies with their co-curricular commitments.
It's the perfect environment to bring out the best in every child.
Mark Turnbull, Headmaster