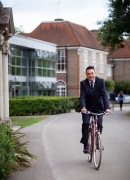 Matthew L S Judd
For over 100 years the values of peace, integrity, equality and simplicity have guided the students and community of Leighton Park School. These Quaker testimonies continue to sustain the school, providing a strong academic and caring environment in which our students can live, learn and grow in a happy, disciplined community.
We achieve this through high academic standards, a richly diverse extra-curricular programme and an emphasis on mutual respect, individual responsibility and integrity. The emphasis on the positive side of human nature provides us with the opportunity to look for the good in each individual, looking for that of God, in every culture and background, religious or not. At Leighton Park we develop young people who understand, cherish, and make a difference to the world which they inherit, with all its history, diversity and fragility.
Set in a beautiful 60 acre park on the outskirts of Reading, Berkshire, but only 30 minutes from central London and Heathrow airport, Leighton Park School is a happy, diverse community in which boys and girls from age 11 to 18 flourish together as boarding or day students.
I look forward to meeting you,
Matthew L S Judd
Head