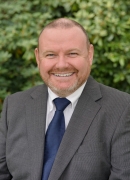 Cliff Canning
We are academically ambitious for our children and encourage them to achieve their personal best. We do not compare children with their peers or with so-called norms, every child is unique and deserves the recognition of that as they grow. We encourage an appropriate belief in oneself and being mindful that the world does not end at the tip of one's nose and that happiness in life is through success in enriching the lives of others.
Our expectations are high, we expect a lot from the children and make no apology for this. Children and young people respond positively to the belief and expectations we have of them. Pupils are encouraged to take intellectual risks, to challenge themselves and to respond to that challenge because they know we are there to support them. Mistakes are valued as opportunities for growth and development, there is no meaningful growth without them.
We expect students to develop independence and support this by giving them responsibility from an early age. Through class representation student council to leading sailing and golf programmes and, in co-operation with staff, planning and managing business tendering and project management, our students become accustomed to responsibility and accountability. We could not claim to foster independence without giving students a meaningful opportunity to live it.
Our pupils leave us with a sense of purpose. They leave us with an understanding of academic life and experience of the world of work through our careers and leadership programmes. They leave us with a sense of social responsibility. They leave us with academic achievement, personal fulfilment and the desire to make a difference.