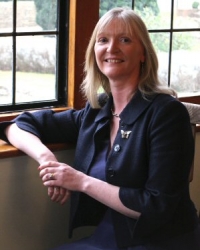 Tracy Kirnig
Parents frequently ask me what's distinctive about Prior's Field.
I always reply that we are a school focused on the development of unique individuals. Our small size is a huge advantage in this, but we also have a strong family ethos, wonderful team spirit and big ambitions for our girls.
Prior's Field is a school where girls are encouraged to grasp the opportunities created for them - from designing and racing electric cars, performing in master classes with world acclaimed musicians and exhibiting their art in national galleries, to setting up businesses in the Sixth Form. It's where they can be happy and inspired by talented teachers and enjoy positive, engaging relationships.
Prior's Field was graded excellent in all nine categories of its most recent ISI (Independent Schools Inspectorate) Report. The report concluded that excellent teaching, outstanding relationships and the high quality of both the curriculum and extra curricular activities enable pupils to make exceptional progress. Pupils of all abilities do extremely well.
Our Sixth Form offers a superb experience: with over 24 A Level subjects, small teaching groups and personal tutors, results are excellent. A weekly lecture programme, subject workshops, careers, UCAS and Oxbridge programmes ensure that everyone aims high. Community service options, Silver and Gold Duke of Edinburgh Awards, World Challenge and overseas trips provide further opportunities.
Pastoral care is one of Prior's Field's strengths. Staff know the girls well and encourage them to be themselves and to think independently. Boarding is at the heart of the school, with weekly boarding a popular option for London-based families and flexi-boarding (for up to two nights per week) offered for younger girls aged 11 to 13. Junior boarders live in the School House, under the care of the Junior Housemistress and resident staff. Sixth Form boarders are based in their own purpose-built house, many enjoying ensuite facilities, and are overseen by a separate Housemistress and staff team.
Prior's Field offers a distinctive route to high achievement, but at the centre of our concerns is also the sort of young woman your daughter will become. Our girls learn to hold true to themselves, to their work ethic, their friends and their humanity. They learn to see obstacles as exciting challenges and to do things because they're worth doing. They chase their dreams.
Why not visit us? You will be made very welcome.