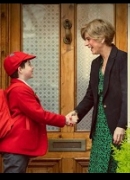 Mrs Susie Byers
Broomfield House, founded in 1876, co-ed preparatory school for age of 3-11. All full day pupils are served lunch, freshly prepared on the premises. In 2018 the ISI Regulatory Compliance Inspection showed us 100% compliant. In 2015 the ISI Inspection confirmed us as excellent for our curriculum and teaching.
We provide a broad curriculum so, as well as English, maths and science, we teach art/technology, computing, drama, geography, gymnastics, history, music, Spanish, sports and swimming. We develop every individual's confidence and potential, building problem solving skills and creativity through highly differentiated class-based teaching and our Individual Learning Enhancement programme which targets additional teaching at the specific needs of all pupils. Children are prepared for entry to independent secondary and boarding schools, with many achieving scholarships.
Our creative arts curriculum is taught by specialist teachers, each class performs a musical play on stage annually. We have a School Orchestra, Brass and Clarinet Ensembles and djembe clubs and Chamber Choir. There are regular performance opportunities in Assemblies, at annual concerts and in community events and at local care homes. We participate in ISA art and music events and in both 2017 and 2018 one of our children was appointed a Young Speaker of the Year by the English Speaking Board.
In 2019 we were appointed an Endeavour Ambassador School by the Royal Botanic Gardens, Kew, piloting materials for their online teaching platform. Year 4 benefit from a unique collaboration, taking 6 Kew-led science lessons in the Gardens each year.
All children access our well-stocked library and IT facilities. From Year 2 upwards girls play netball and boys football, co-ed groups play athletics, cricket, cross country, hand ball, tennis and touch rugby. We have a fully equipped gymnasium at school. Swimming is taught throughout the year, with our girls being placed second in the Independent Schools category in the Borough this year.
We offer a wide range of activities and holiday clubs, including art, athletics, chess, cookery, dance, drama, drumming, computing, fencing, football, French, gymnastics, karate, netball and Spanish.
The combination of these activities and attitudes results in secure, motivated, broadly-based children leaving us at age 11, with developing maturity and confidence. We were delighted this year to be presented with a crystal award by the Best Schools Website for being in the Top 10 London Prep Schools for securing the highest percentage of pupils into top performing senior schools.