Word From The Head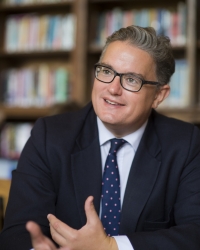 Tom Rogerson
Creating 'inner confidence' is key at Cottesmore. It is our mission to find something in which the child can excel - be it academics, sports, other areas of Cottesmore life. The personal knowledge that one has a passion and a skill, creates an inner confidence which filters through all aspects of one's life. At every possible opportunity each child is given school wide recognition for achievement and improvement.
The school is run very much as a family, with a natural balance between freedom and order, the needs of the individual and of the community.
Within a warm and secure atmosphere, the children are encouraged to work hard and to play hard. A child rarely leaves Cottesmore without having excelled in some field.
Cottesmore has recently been named 'Prep School of the Year' by Tatler Schools Awards in October 2020. In addition, Cottesmore was a confirmed finalist for the BSA's 'Mental Health and Wellbeing Initiative Award' in September 2020 and 'Independent Prep School of the Year' by the Independent School of the Year Awards, respectively. Cottesmore was also awarded 'Boarding School of the Year' in February 2019 by Tes (formerly known as the 'Times Educational Supplement').
Pupils talk enthusiastically about their school and they have excellent attitudes to learning." ISI 2019 - Independent Schools Inspectorate (www.isi.net/)
"Cottesmore excels in providing the opportunity for every child to shine." - The Good Schools Guide (www.goodschoolsguide.co.uk/).
"A strong reflection of why boarding, in general, is a good thing" and how Cottesmore "encouraged boarders to recognise how they need to contribute to the community and that the world doesn't just revolve around them" - Tes, 'Boarding School of the Year 2019'.
Cottesmore is a family school, which has been preparing children for the major Public Schools for over a century. It is a boarding co-educational preparatory school housing up to 200 boys and girls from the ages of four to thirteen, boarding starts at eight years old. We are large enough to be competitive in academic and sporting standards and facilities, but small and friendly enough to allow us to respect each boy and girl as an individual, and to take account of his or her strengths and needs.
Cottesmore is situated in thirty five acres of its own grounds and is surrounded by 1000 acres of parkland. The peaceful Sussex countryside with wonderful views to the North Downs is the setting for our playing fields, cricket pitches, all-weather cricket nets, grass and hard tennis courts, golf course, lake and gardens.
It has all the advantages of a country school yet is 1 mile from the end of the M23 at Pease Pottage, 10 minutes by car from Gatwick and less than 1 hour from Central London.