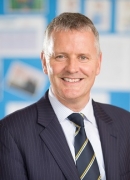 Mr Giles Entwisle
Bede's Preparatory School is part of the St Bede's School Trust. Situated on the edge of the South Downs, overlooking the beach at Eastbourne, the Prep School caters for day and boarding pupils up to the age of 13. At this point most of the pupils move onto the Senior School, set in the heart of the Sussex countryside. Each school provides magnificent facilities on site, fresh air and the space for pupils to discover their talents in and out of the classroom.
At Bede's, education is all about the individual. Our pupils explore and develop their talents in small classes, where they are stimulated and challenged; while extensive extra-curricular activities provide a broad education in its truest sense. This breadth enables pupils to try many different things and find out what they are really good at.
To ensure our pupils are getting the most out of their education, we monitor each individual's academic and social progress closely and there is always a helping hand available if needed. Our pupils gain the confidence to give things a go, and to ask when they are unsure. They learn that in school, as in life, the more they put in, the more they take out and there is always a buzz of excitement and energy at Bede's.
To appreciate this vitality fully, you really need to experience it for yourself. We warmly invite you to visit our school, meet our pupils and staff and experience Bede's first hand.
Nicholas Bevington
Headmaster