Word From The Head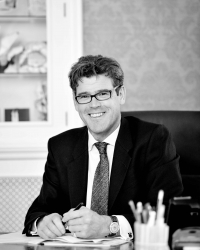 From Ben Vessey, Headmaster
Set in 250 acres of landscaped parkland on the outskirts of Wimborne in Dorset, rated 'Among the top 10 most beautiful schools' by The Daily Telegraph, Canford is an inspirational place to live and study. The high quality of its education has been recognised through numerous national industry awards, including 'Tatler Public School of the Year 2019/20','Independent School Parent Boarding School of the Year 2018/19' and a finalist in the TES Awards for three consecutive years including 'Senior School of the Year' and 'Community Partnerships' work. It has established a commanding reputation built on its excellent academic record and fresh lively approach.
The school has celebrated consecutive years of high academic achievement, ranked 2nd in the region for A Level 2022 results by The Sunday Times Parent Power report 2023. Outcomes are impressive, with over 95% of Canfordians moving on to University each year with 92 Oxbridge offers in the past decade, and over 100 places for highly competitive Medical Schools and for Veterinary Science. Over 80% of all offers have been to institutions in the Russell Group/Sunday Times Top 12 in recent years.
Alongside the overall high quality educational offering, emphasis is placed on individual development; Canford is ambitious for its pupils in all aspects and provides all the academic, emotional and spiritual support pupils need to reach their potential across their school lives. The school vision is for pupils to 'Explore, Express and Excel' across all aspects of school life within a warm and supportive school Community, and the recent Independent Schools Inspectorate report said that "pupils' learning and achievements in their academic courses and in games and co-curricular activities are outstanding". With a culture which encourages participation and hard work, breadth and excellence jostle to good effect. Many clubs and societies, educational trips and facilities give pupils the opportunity to develop strong personal qualities as well as lifelong skills and enthusiasms. Leadership within the school is seen in terms of service. Canford regards service as a natural dimension of learning. The pleasure and enthusiasm with which Canfordians embrace community service, as well as care for each other, is one of its proudest achievements.
Pastoral care is based on the house system, which provides the continuity and security in a pupil's life within which personal development can take place. The houses consist of 60 or so pupils, large enough to create a varied and challenging community, small enough to promote a sense of belonging. Above all else, the house is home.
Around 40 scholarships each year for academic excellence or talent in Art, Design Technology, Drama, Music or Sport. Means tested bursaries worth up to 100% of fees.