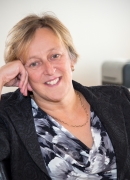 Mrs D Leonard
The Grange School is perhaps the biggest success story in Independent education over the past 30 years. Founded as a Senior School in 1978, and building on the foundations of the Preparatory School established in 1933, The Grange has risen to become Cheshire's leading Independent School, and is regularly in the highest reaches of a variety of national league tables for exam performance, value-added and value for money. Today the Grange has a total enrolment of nearly 1,178 pupils with 457 in the Junior School and almost 721 in the Senior School including 198 Sixth Form pupils.
It is the school's unchanging standards of effort, personal discipline and excellence which have allowed the school to flourish. The school is a community in which the parents and teachers work together to ensure that all pupils receive the guidance, support and encouragement they need to be happy and well adjusted and for them to attain their full potential in every aspect of school life and to be prepared for their working lives. It is these relationships, which a recent ISI Inspection classed as 'outstanding' that form the foundation for excellence in so many fields.
The purpose-built Junior School, set in 11 acres of grounds, was opened in 1996. The school is currently undergoing a major addition to it's infrastructure, due to be open in September 2010. Enhanced facilities include a Sports Hall, Science Lab, Technology room, Art room and two music classrooms and 5 peripatetic music teaching rooms. Pupils enjoy splendid facilities and study a full and varied curriculum in which considerable emphasis is placed on a solid grounding in Mathematics and English. The curriculum is supplemented by numerous Clubs and Societies which make the Junior School a happy and industrious community.
At age 11 pupils study a range of 17 different subjects. A wide choice of GCSE subjects allows Year III pupils to enhance the core curriculum with their choice of study; allowing pupils to play to their strengths is central to the school's ethos. The Grange is also renowned for the consistency of its high academic standards and achievement.
A wealth of extra-curricular activities supplements classroom study. With 20 acres of playing fields, The Grange has a strong sporting tradition enjoying success in local and national competition; individual tuition in Music and Speech and Drama contributes to the success of orchestras and choirs and a variety of drama produced at all levels throughout the year. A superb new theatre and purpose-built classrooms for Music and Drama opened in September 2005, so that the facilities will match the excellence of the achievements in these popular areas of school life.
The pupils benefit from excellent extra-curricular and study facilities. There is an ambitious but realistic building programme which saw the opening of a state-of-the-art Science and Information Technology Centre in 2001 and the opening of a new library in May 2003. These superb facilities complement such recent developments as a Modern Languages suite, including Language Laboratory and satellite television.