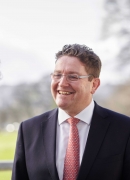 Mr James Lockwood MA
Woodhouse Grove is an independent co-educational boarding and day school for children from 11 to 18 years of age. Located between Leeds and Bradford, the Grove is set in a 70 acre semi-rural campus, close to the major airports of Leeds/Bradford and Manchester and to major rail and motorway networks. Apperley Bridge station is located directly opposite school and takes only 10 minutes to Leeds centre.
Founded in 1812 by the Methodist Conference, the Grove is divided into three sections: Ashdown Lodge for 2 to 5 year old children, Bronte House for 5 to 11 years and Woodhouse Grove for 11 to 18 year olds: pupils may board from 11 years old. We offer continuity of learning from nursery through to University or the start of your child's career, producing confident and prepared young adults ready to face the challenges ahead. With over 750 pupils in senior school, we are large enough to provide a full curriculum and wide range of activities under the guidance of well-qualified teachers, but small enough for each pupil to be known well and to make their mark.
Our academic results are excellent with a third of the year group achieving at least 6 high grade (A* or A; 7 or better) GCSEs and 99% pass rate at A level. But The Grove is not an academic 'hothouse', we strive to fulfil the potential of every child, not only through academic subjects but through culture, sport and the arts. Our facilities include a state of the art sports centre which gives children the opportunity to be involved in an extensive variety of sports in addition to the traditional sports of rugby, netball and cricket. Our extensive outdoor facilities include floodlit macadam tennis and netball courts, which, as well as tennis and netball, can be used for five-a-side soccer and general sports training. Along with a fitness suite, 25m competition swimming pool, rock climbing wall, squash courts and our 3G all weather pitch, The Grainge; there is something for everyone.
Equally, the Grove has an excellent reputation for the quality of its drama and music and is dedicated to providing the best opportunities for pupils who want to be involved in the performing arts. Our state-of-the-art facilities include a recording studio, recital room, drum room and dance studio thus allowing us to offer a wider range of instrumental tuition, orchestras and choirs. The recent re-development of the gymnasium into a 240 seater theatre with professional standard tech box for all lighting and sound requirements, a flexible performance space and rehearsal areas, all enable our pupils to further develop the more specialist skills required for drama and music productions and allows a greater variety of performances to be staged.
Boarders can access an extensive range of weekend activities; including trips to the cinema, shopping, paint balling, adventure weekends as well as evening activities and full access to the library and sport and drama facilities.
Our aim is for our pupils to enter a world of opportunity with the confidence born of achievement, and the strength of character developed by exposure to challenges and experiences in a caring and secure setting.
Bursaries and scholarships are available.
Please take a look at our website and make an appointment to have a look around. We will be delighted to welcome you.
James Lockwood MA
Headmaster