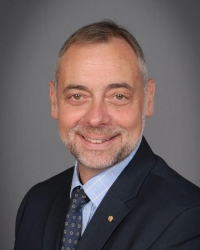 Andrew Russell
EDUCATION SHOULD BE FUN! We believe that means challenging, exciting and stretching… using a wide range of interactive and multi-sensory methods. Self-confidence is critical to success and we aim to find ways to boost each pupil so that they are motivated to make progress in all areas. Indeed, to see pupils gaining so much in self-esteem and to watch them blossom into happy and fulfilled people is immensely rewarding.
Our small group sizes (about 8-10 in a class but even less in English, Maths and Science) help enormously and the overall teacher/pupil ratio is 1:5. ALL our teachers have extra training (beyond PGCE/BEd) and their interactive teaching methods work equally well with the brightest pupils and those who struggle with dyslexia/SpLD. A range of ICT technology is used and we were judged "OUTSTANDING" in a recent HMI inspection.
Situated on a magnificent site just a mile from the sea (with views of Snowdonia and an eclectic mixture of historic and modern buildings) we adopt a whole-person approach, believing that a true education embraces mind, body and spirit. This has been a fundamental element of our provision since the school was founded in 1965.
Our pupils take part in a host of outdoor pursuits and sports as part of their scheduled curriculum. How many schools' pupils regularly enjoy (amongst many others activities) husky sledging in Sweden, 4x4 driving on site and falconry? There are 5 members of staff in our Outdoor Education department and 16 major expeditions have been planned for this year so far, in addition to the Duke of Edinburgh awards.
Underpinning all this, our Christian foundation 'sets the tone' and means that parents can be sure of the moral and personal standards we expect. We aim to provide a happy, wholesome and supportive community in which each pupil feels valued for who they are.
Recent building work has included a D T block (with the latest CAD facilities) and extensive boarding accommodation for both girls and boys. Students progress into the usual professions but many demonstrate entrepreneurial and design skills through successfully running their own businesses.
St David's College is very unique, even amongst independent schools and we hope that this information has given you a taste of what we are trying to achieve. However, it really needs to be experienced first hand… so we invite you to visit us and see for yourself.