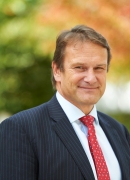 S H Williams, BSc MA
We seek to give the widest range of experiences and also the opportunity to excel. Children at Churcher's College thrive in an atmosphere of high expectation but even higher achievement in a happy, well-disciplined and caring environment.
Excellent examination results are clearly important; the achievement of these forms a core element of a child's time here. Equally, the development of self-esteem, moral values and leadership are vitally important parts of a child's eduction.
By developing the full academic, creative and sporting talents of the girls and boys, within the context of social awareness, our aim is to fully prepare them for all they will face in the dynamic and challenging world in which we live.
The pupils of Churcher's College become confident, responsible, respected and selfless citizens in a world which will require gifted, flexible young people of character, dedication and compassion.
Please come and see for yourself, Open Events are held throughout the year. See the website or contact admissions@churcherscollege.com for more details.
***
"I am given the perfect balance of independence and responsibility paired with the support of the Sixth Form teachers."
Student
"We love all the variety, there really is something for everyone. It really is a place for both my son and daughter to find their niche and fly."
Parent
"My son describes the Junior School as the best time ever, and it gave him such great foundations from which he has sprung and grown."
Parent
"…pupils are well balanced, thoughtful and considerate individuals with an excellent standard of personal development."
ISI Inspection