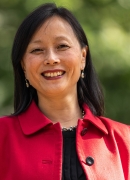 Mrs Joanna Wright
A foundation for life
King Edward's School aims to provide the very best possible preparation for adult life in today's world. We achieve this by combining traditional values of excellence, breadth of opportunity and a high level of pastoral care with an innovative and forward-thinking curriculum. By admitting pupils from a very wide range of academic, social, economic and cultural backgrounds to reflect the real world, we have become a community in which all individuals can thrive, and where boarding and day pupils together grow in an atmosphere of co-operation, mutual respect and independence of thought.
Highlights include:
* broad education, focussing on the needs of each age group and the individual
* offer GCSE, IGCSE, Pre-IB and International Baccalaureate Diploma
* experienced and dedicated Special Educational Needs and EAL provision
* fees include uniform and many 'extras'
* fully co-educational ethos since 1951
* flexi-boarding availability and flexible length of day built in
* well-equipped Medical Centre which is staffed 24 hours a day
* extensive co-curriculum programme offered
* approach very much 'Sport for All'
* secure and attractive 100-acre wooded campus with excellent sports grounds and facilities
* 3 minutes' walk from mainline rail: 1 hour from London, 45 mins from Heathrow and Gatwick airports
King Edward's was founded as the Bridewell Royal Hospital by the "Boy King", Edward VI, in 1553. The aim was to provide education for the City's needy children and our Foundation still provides bursary assistance to a substantial proportion of our pupils, true to its founding purpose. We want every pupil to receive the best possible education at King Edward's and, as Old Witleians, take with them the happiest of memories and lasting friendships into the future.
To arrange a personal visit or for further information, please contact admissions@kesw.org
For more detail of life at King Edward's School, please visit www.kesw.org