Word From The Head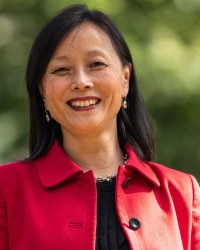 Joanna Wright
Pupils thrive at King Edward's. We encourage them to be the best versions of themselves because individual achievement and personal growth count for more than league tables. Our unique heritage and place among British co-educational independent schools means that we can provide the best preparation for adult life to a wider range of young people than almost any other institution.
King Edward's offers your son or daughter a school that can feel as warm and welcoming as home. A springboard to a lifelong love of learning which can nurture confidence, foster collaboration and prepare them for life in a multicultural world. Most of all it can help them discover who they are. This is a school shaped by generosity of spirit, not by background.
A King Edward's education is a rounded education. All academic staff are subject specialists, GCSE/IGCSE in Year 11 followed by a choice of A-level courses or the IB Diploma programme in the Sixth Form. Young people discover skills, talents and enthusiasms they never knew they had and are encouraged to set their sights high and be ambitious in their learning. Our rich co-curricular programme broadens their horizons. Pupils benefit from small class sizes and our House system with its supportive pastoral networks which are at the heart of school life. Each House is committed to uniting and blending boarders and day pupils into a single team. Diversity has been a strength since our foundation in 1553 and while most of our 420 pupils are local, we attract international students from more than 40 countries who help teach us what it means to be part of the wider human family. A new Upper Sixth Form House, Academic Hub and Reception area, containing a Learning Resource Centre, will all open in September 2022.
We host and take part in weekly sports matches – Saturdays and mid-week. In recent years the School is proud to have achieved regional and national success in football, tennis, basketball, table tennis, fencing, climbing and athletics. Music flourishes inside and outside the classroom with some twenty choirs, orchestras and specialist instrumental ensembles from chamber music to rock bands. A carefully structured programme enables pupils of all abilities and aspirations to perform, from informal showcase concerts and workshops to masterclasses and large-scale concerts. Annual instrumental and vocal competitions are held for soloists and ensembles.
On our leafy, 100-acre site amid the Surrey Hills we have space for all the sport, drama, music, hobbies and intellectual pursuits a young mind can capture. King Edward's is a wonderfully safe place for youthful adventure and curiosity. Our ethos ensures there is ample choice for boys and girls to enjoy a wide variety of sports. Our programme is built on the latest research with activities that blend breadth with specific development, hence offering a vast array of Physical Education programmes.
Our aim is to inspire a love of independent learning, a wealth of lasting friendships, Christian values and hopeful vision. King Edward's is an extraordinary, distinctive, forward-thinking and global minded community. It is a wonderful place to be.
For more detail of life at King Edward's School, please visit www.kesw.org.
To arrange a personal visit, or for further information, please contact admissions@kesw.org