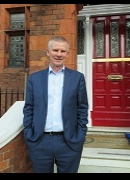 Mr A J C Reid, MA (Oxon)
Lyndhurst is a small but lively traditional boys' preparatory school, with an excellent record of achievement at C.E. and Scholarship level, particularly with the major London public schools. Enthusiasm and commitment are the most prized qualities among boys and staff alike. Self-respect, self-confidence and a sense of responsibility in the pursuit of academic and sporting goals are the school's main aims.
There is ample opportunity to take part in sports and other activities include chess, drama, choir, orchestra, athletics and computing. Numerous trips and outings are arranged, and for the older boys the chance for an adventure holiday, annual ski-trip, and a study visit to France.
The school is non-denominational. All faiths are welcome.
Entry to the school is at 4 or 7 , with occasional places at 5 , 8 and 11 . All admissions are subject to an interview and assessment.
Lyndhurst's defining characteristics are its small numbers and intimate friendly atmosphere.